Police embracing social media to fight crime
m.pressofatlanticcity.com
|

May 20th 2012 6:07 PM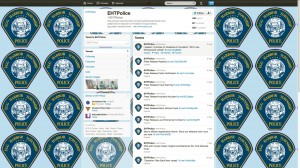 Brigantine Police Lt. Tim Reed knows just what to do when there's a burglary, a robbery or a missing person: He turns to Twitter.
"You need a partnership with the people," Reed said. "If you don't have it, you're not going to solve the problem. … You're not going forward."
Social media sites such as Twitter and Facebook have proved invaluable in modern policing, with a number of local departments signing up and getting the word out. Even the State Police are fully engaged, and with 13,773 followers as of Sunday, the force had the second-largest following among any statewide law-enforcement agency in the country, according to the International Association of Chiefs of Police, or IACP.
Twitter and Facebook work differently in how they get out information. People can send tweets, with their 140-character limit, not just through the website or an app but also via text-messaging — and then those tweets can be set up to appear instantly on a Facebook page. Users can also easily "retweet" other users' tweets.
Until recently, Twitter was also different in that anyone can sign up to "follow" an account, while Facebook required the extra step of approving a friend request. But Facebook started to echo Twitter by allowing one-way "subscriptions" that allow you to see someone's updates without reciprocation.
In Brigantine, Reed handles all social media for the department — Twitter, Facebook and the department's website — part of an initiative launched when Chief John Stone took over in 2010.
"We sat down with Chief Stone and found that we had never really gotten into community policing," Reed said. "We needed to get things out to the community a lot faster. We needed to embrace social media. That's where the people are."
Brigantine has tweeted news releases, links to stories about Brigantine, warnings about road closings, advice such as "See something suspicious, call the police" and "Enjoy … You are already here … SLOW DOWN … Officers are running radar," even retweets from other departments.
"For us, it's actually helped with (finding) missing persons, missing children," Reed said. "What's happening is, we have gotten a lot more information. … Tips we didn't have before, (because) people see it as soon as we put it up there. Twitter goes right to Facebook and to our website. That's quick."
Reed mentioned one example of social media's reach: the school bus accident last month in Galloway Township. Reed, who lives nearby, took a picture of the crash and uploaded it to Twitter, which automatically cross-posted it on Facebook. Soon, he got a call from the department asking him to take it down — the station, it turned out, was "getting slammed with news organizations calling from all over the country" asking to use the photo.
"It wasn't my place to communicate with them," Reed said. "But the point is, that's how powerful it is."
For departments just starting out in social media, Reed recommended they visit the IACP website, which includes all sorts of information and advice on setting up and operating departmental accounts — and which recently listed Brigantine as a featured agency.
One of the group's latest fact sheets is about "Facebook safety for law enforcement" — be careful about the photos and comments posted, and don't friend someone who "could negatively affect your role as a law-enforcement officer."
Another thing to consider, the fact sheet states: "Are you an undercover officer"? Then it might not be a good idea to have your photos on Facebook.
Northfield police started using Facebook during the approach of Tropical Storm Irene in August, when half the town was evacuated, Lt. Art Faden said.
"We're kind of in the infant stage of social media still," Faden said, adding that the department had also branched out to Twitter. "Someday in the near future, we hope to (issue) press releases through our sites."
On Friday, Northfield tweeted that a bicyclist had been struck at Route 9 and Cedar Bridge Road. But the tweet that got the most attention was one sent out April 13: "Residents in the area of Birch Grove Park being warned of a possible bear sighting."
"We still don't know whether or not it was a bear," Faden said. "It was a pretty reliable source who saw it. It's not beyond the capability of a bear to come this far."
Middle Township police have long been vocal on the effectiveness of social media, especially YouTube. Videos cross-posted on Facebook have helped solve crimes ranging from shoplifting to fraud, "things not getting the attention of traditional media," Chief Chris Leusner said.
Leusner said that when he took over in 2009, he was skeptical, but Doug Osmundsen, a detective at the time, talked him into it when he asked for new ideas.
"I personally do not have a Facebook account, so I was sort of suspicious of it in the beginning," Leusner said. "But I'm a true believer now."
Egg Harbor Township police have gotten tips using their Twitter and Facebook accounts for a number of crimes, and just last week used them to ask for information on a motel robbery on the Black Horse Pike.
For his part, Lt. Robert Gray said EHT wasn't as active as other departments in spreading the gospel of social media; he didn't think it was necessary.
"I'm not sure you have to spur anybody to do it," Gray said. "Anyone can see it's the wave of the future. Everyone's on social media or is going to be on social media. It's just a tool you need to use."
Contact Steven Lemongello:
609-272-7275
Original Page: http://m.pressofatlanticcity.com/mobile/news/press/atlantic/police-embracing-social-media-to-fight-crime/article_0a1498fa-a2c8-11e1-968f-001a4bcf887a.html
Shared from Read It Later
אל